Management philosophy
Home
Company introduction
Management philosophy
Harmony and progress
Ever since its foundation, all the staff of MODETOUR has strived to share and practice the management philosophy of harmony and progress.
The executives and staff of MODETOUR make a company where everybody feels responsible under the following five principles.
Commitment to its customers

MODETOUR is always ready to listen to what the customers have to say. Each and every customer is the force that changes MODETOUR for the better.
MODETOUR's objective is to provide what the customer wants in the quality demanded by the customer when the customer wants.
Co-existence with affiliates

Ever since its foundation, MODETOUR went through its ups and downs with many different travel agencies in the country. MODETOUR grew this much thanks to the hard work of these agencies scattered around the country.
Transparent ethics

MODETOUR operates under the law and adheres to its transparent management principles.
Public contribution for a happy society

MODETOUR undertakes a variety of social welfare activities in order to ensure that all members of the society, including its staff, can benefit from the company's profit. This is also in line with its philosophy of a social enterprise.
Passionate and talented person

All of the employees form the basis of MODETOUR.
Passionate staff is the biggest asset that MODETOUR has.
Oath of ethical management
Ever since its foundation, MODETOUR has been leading the tourism industry thanks to the hard work of its staff and affiliates. Just like the way unprofitable businesses cannot survive, unethical businesses cannot survive in the current business world. In order to maintain a transparent and clean business image and ethical management, MODETOUR executives and staff would obey the law and principles of ethics, stated below, in all business activities.
First, act in a legal, ethical and truthful manner.
Second, respect the benefit and rights of the customer/stakeholder/affiliate.
Third, construct and strengthen mutual trust through clean and rational management culture.
Last, be responsible for social development and undertake social responsibilities, as a constituent of the society.
MODETOUR will continue to lay down the groundwork to grow into an international business in the future.
Department operation under ethical management
| | |
| --- | --- |
| Grievance settlement committee | Receives complaints about difficulties or hardships experienced while working. |
| Customer service center | Receives and processes customer complaints, prepare service amendments and educate the staff |
| Legal affairs team | Offers support regarding accounting and legal affairs for corporate body, department and individuals |
| Human resources | Continuous advertisement and education of ethical management |
Customer's charter
MODETOUR begins from the happiness and trust of its customers. MODETOUR will never forget that the smiles and joy of its customers is its driving force, and will always strive to do its very best to ensure satisfaction.
Consumer Centered management (CCM)
" MODETOUR has been CCM certified as an excellent consumer centered management company. "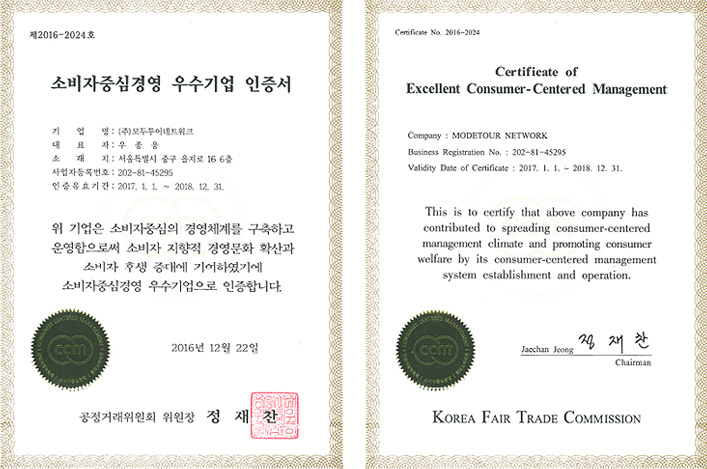 Consumer centered management, CCM, is a system that assesses and certifies businesses that composes all activities from the customer's point of view, and continues to improve upon related management activities.
It aims for three things: spread of consumer-orientated culture among businesses and organizations; strengthen competitiveness through efforts to improve customer rights contribute to developing customer welfare.
Operating customer satisfaction department
MODETOUR started to think about improvements on customer service with customer satisfaction department from 2006.
It also strives to improve the quality and organization of its customer service continuously.
Service standardization

MODETOUR has standardized and created manuals for all services, meaning that its customers can receive quality service anywhere, anytime.
Identifying the needs of the customers

MODETOUR identifies the tendencies of its customers continuously throughout the year and applies these to marketing and product planning, as well as trying to be more approachable through operating Happycall system.
Reinforced service education on staff

Service education on staff has been made into a regular event, and service minds are encouraged through training of instructors within the company as well as inviting external instructors.
Emphasis on management of key customer satisfaction index

Internal management of indices such as SQL and SCI are reinforced, and objective assessment is carried out through credible professional organizations.
" Beautiful trip, Happy Sharing "
Ever since the company's foundations, all its staff has been endeavoring to share and practice the management philosophy of harmony and progress.
MODETOUR continuously tries to make an inclusive world through implementing co-existing management strategies with affiliates and contributions to make a happier society.
Efforts for co-existence in tourism industry

Since its foundation, MODETOUR has been through ups and downs with numerous travel agencies in the country. Behind its growth lies the struggle of these travel agencies. In order for the development of the industry, MODETOUR runs MODETOUR Travel Fair B2B Day, offers solutions for BP agencies and operates Seoul Hotel and Tourism Vocational Training College and Tour designer program to encourage talented individuals in hotel/tourism industries.
Efforts for a world that lives together

MODETOUR, under the business philosophy of contributions for a happier society, runs various social welfare activities so that all members of the society and the company can benefit from the company's profit.
Celebration of multicultural family, Sharing love travel for children in social welfare facilities, donation to UNICEF through employee change system are only some of the social contributions that MODETOUR is currently running, in order to make a closer and warmer society